1920's East Meets West ~ A Striking Hand Embroidery Silk Kimono In Original Box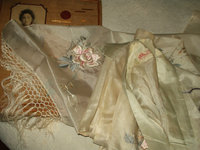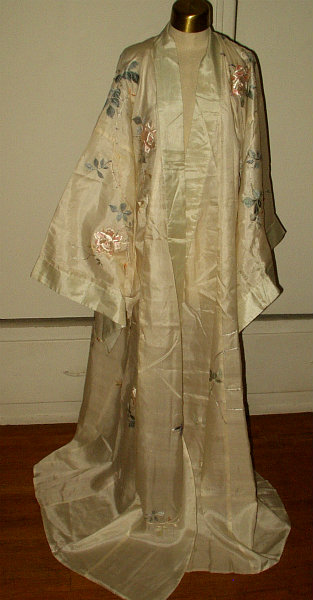 To dazzle the eye ~ a exceptionally nice ivory silk Japanese kimono and sash. Vintage 1920's or 1930's, unused still in box. The silk of the robe is very flowing, light and airy, almost gossamer. Beautiful flowers of roses are hand embroidered in padded satin stitch. Shades of a delicate pink, with the leaves embroidered in a soft color of blue, dot the fabric giving a tranquil feeling .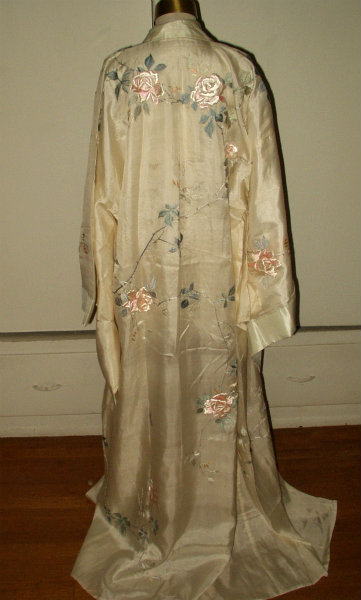 Darker blue butterflies flutter about the fabric. The lapel and cuff of the sleeves are of a light blue silk. Lining is in the same color of silk as the outside. It has full kimono sleeves, measuring 22" in length x 23" wide at the cuff. The kimono is tagged, on the inside of the neck, with a New York retailer label of Vautures, Broadway, New York. The box the kimono was purchased in is printed "Made In Japan". I'm of the opinion, the kimono has never been worn.
Measurement: Length: 64-1/2" long. Although, more or less, one size fits all, it does measure about 15" across from shoulder to shoulder.

Condition: I found no damage to the kimono except for a couple small very light marks of oxidation from storage.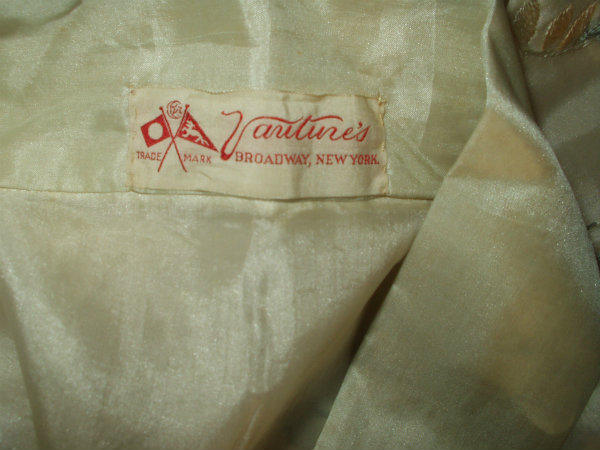 A lovely silk sash with fringe is embroidered, at either end, with a single rose. The fringe sash measures 120" long including the 6" hand tied fringe. The width is 13-1/2" wide.
I found one tiny pin dot size hole in the sash.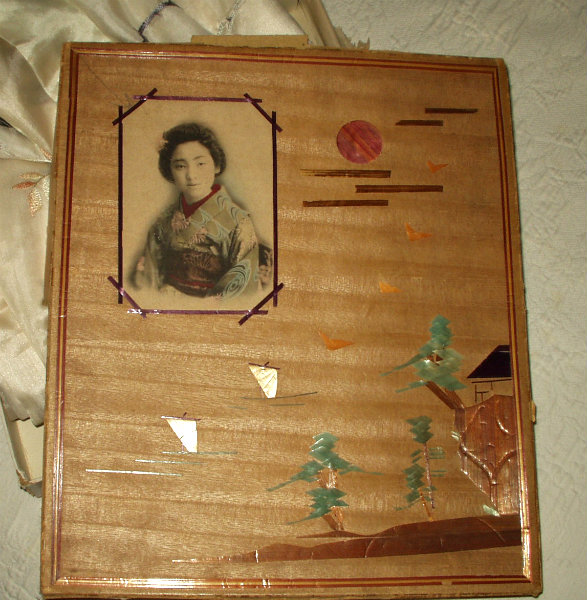 The original box is also included. The lid is very graphic and hand decorated. Although the top of the lid is quite nice, the remainder of the box does show various damage. The contents though were well protected over the years.

This is a gorgeously beautiful piece of wearable art.