A Fashion Statement ~ A Fur Trimmed 1930's Black Velvet Coat
1930's Black Velvet With Fur Trim Winter Coat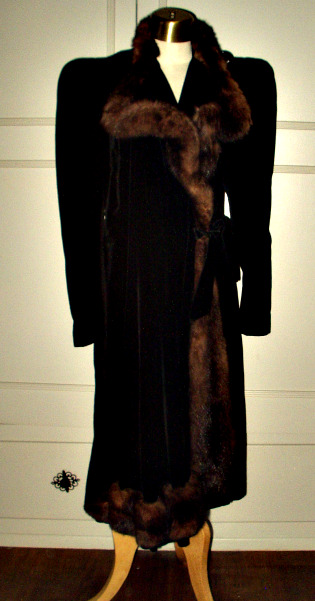 This is a stunning, and I do mean stunning, lady's winter coat. Made of black velvet, it is trimmed in fur at the collar, down the front opening and at the front hem, only on the one side . The fur ends at the side seam - in other words, it does not extend around the back nor on the other side of the front. Unfortunately I am not much of a fur expert so I don't know the type of fur but it is pretty.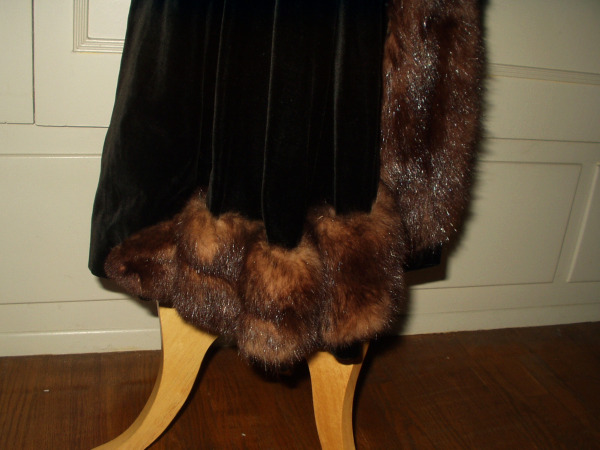 The construction of the coat: The coat is gored to give a fitted, yet flared look. A style appropriate for the swing or bias look of the time period. It is a clutch coat, with short velvet tabs to tie and secure the coat at waist. Two satin ties on the inside of coat, also secure it at the waist line. The full collar can be fastened, with one button at the shoulder seam to give a very dramatic look. This button is a large plastic coat button.
There are a few small tucks, at the shoulder seam, to give a detailed look. Full padded shoulders. Fully lined in exquisite black satin fabric.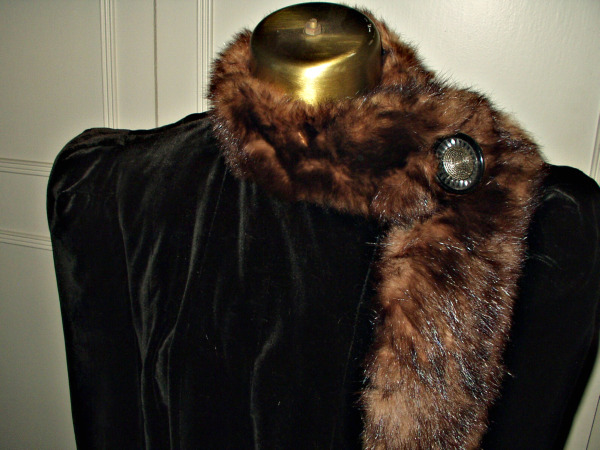 There are two labels inside the coat. The one is A.W.B Boulevard, Velours Du Nord. I would assume this is the company who made the coat. The other label is of Joseph's Fremont. May I elaborate ~ Fremont is the town, of Fremont, Ohio and Joseph's, was a high end department store serving the area. I can remember, as a young girl, being dazzled by this store with all its beautiful offerings, especially at Christmas time, as it did glitter.