A Wonderful 1860 to 1870 Dress With A Tidbit Of History
Another one of those early dresses with a wonderful tidbit of history. This Victorian lady's dress is from the late 1860's, Civil War era,
or 1870's in a green plaid linen (possibly mixed with a silk or a wool challis) with over skirt. Buttons down the front with 7 fabric over metal buttons (should be 8 but one is missing at the waist). The lace ruffle and velvet trim at the neck line, have been added to the dress at a later date. Bishop sleeves with piping between the sleeve and the dropped shoulder. Lace ruff at the wrist which may have been add, too. Bodice and sleeves are lined in muslin. Gathered skirt onto the waist band. Now, I surmise, for some reason, the skirt has been taken off the waist band and then reattached with not too neat of basting stitches. Yes, it would do quite fine, but to be proper it should be reattached correctly. A pocket made of lining fabric is attached to one side seam of the skirt.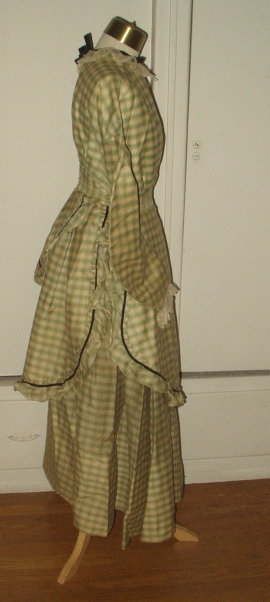 The darling over skirt is made on a waistband in three sections, fastening with hook & eye on the side. Pleated ruffle and narrow black velvet ribbon add accent to the hem of the over skirt. (this velvet trim is original to the dress). Completely lined in lining fabric. Measurements: 48-1/2" long from neckline to hem. 14" across the shoulders. 32" bust, 24" waist. Over skirt measures 24" waist and 22-1/2" long center front.
The history: Dress belonged to Sarah Bixler, born in Johnsville, Ohio 1854. The note also states the lace collar was added about 1920, as the dress was worn for a college play.