An Edwardian 1912-1915 Wedding Dress Of Tulle Lace And Satin Ribbons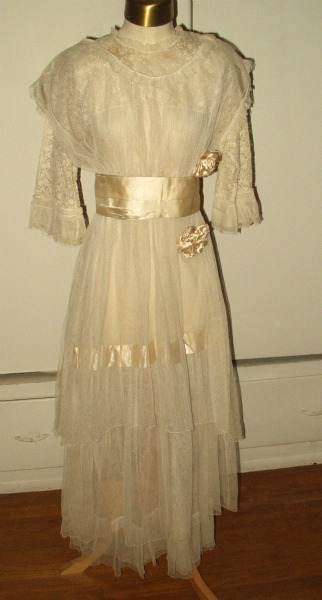 A special day, a special dress. What couldn't be more lovely than this pretty net and lace dress, bedecked with ribbon, worn for a wedding about 1912-1915.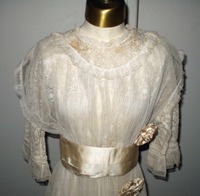 The dress is made of three net tiers, with a cream silk satin band of ribbon, sewn to the second tier, to give it a dramatic flair. The bodice, made of tulle, resembles an over blouse. The sleeves and yoke are made of machine embroidered lace fitted under the tulle. To accent the edge of the three-quarter length sleeves, a net ruffle is added. Hook and eye closure down the back of the dress to just below the hip line.
Although the tulle fabric is beautiful, it is the wide cream color silk satin sash, fastening to a large ribbon rosette, that adds that extra touch. Now, for more accent, the rosette is fastened with long ribbon streamers which fall in a trail at the back of the skirt. Still, two more 3" diameter ribbon rosettes accent the front of the dress.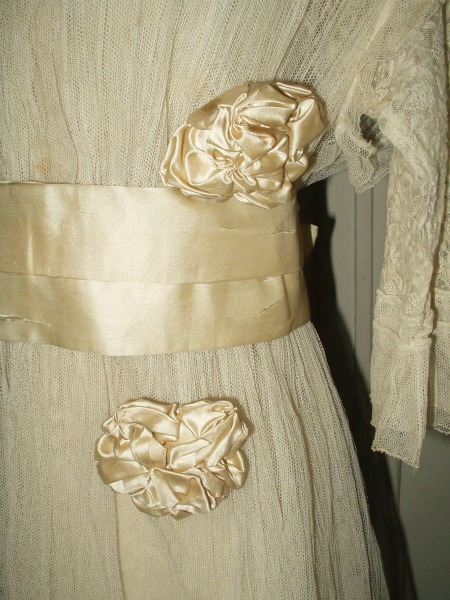 The preservation of the bridal dress over the decades has been very kind, as it is almost perfect. What a treat to find something so eloquent in such fantastic condition.