Antique & Vintage Textiles ~ Buying Expertise
As the business owner of The Gatherings Antique Vintage, I advertise my items as antique textiles or vintage textiles (antique prior to the 1920's and vintage from 1920's - 1940's, as basically this is my time line of selling). I am interested in all textiles but my passion lies with clothing and accessories, bed and table linens, laces and sewing notions. It is the area of buying and selling I have been the most involved with. It is also the area I have gained the most experience. If you have purchased from The Gatherings Antique Vintage, or planning to purchase, you are buying, not only the item, but you are buying my expertise.
I have been dealing with cloth items for 30 years. Buying and selling in many venues, including a brick & mortar store. Over the years my expertise has expanded by sharing and gaining knowledge through other collectors and dealers. Also reading resource books, both new and old, plus all types of articles written on period textiles. Over the course of years, I have visit museums studying the various textiles on display. But my vast knowledge has been acquired through the handling and studying textiles that cross my path. This is, in itself, the best learning experience one could ever hope to gain. Seeing, feeling, comparing is a great educator, as there is history to cloth and looking for those clues unlocks the secret to the age.
A few items I have sold in the past.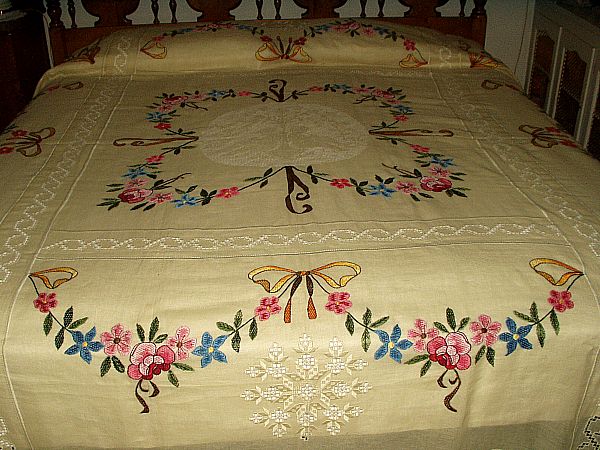 Here is one FABULOUS 1920's bedspread! It incorporates lovely sprays of jewel tone flowers tied with sun gold ribbon bows embroidered on 22-count cloth fabric. Not only is the embroidery work absolutely stunning it also shares the limelight with insets and a complete border of Hardanger embroidery. Still, the show does not stop here, taking to the center stage, is a large round darn net lace inset of two figural ~ pied pipers, if you will. It is glorious with so much artistic expression.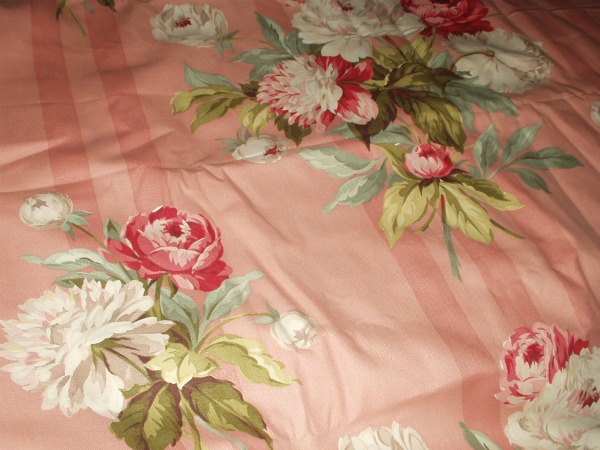 8 Yards of the most beautiful vintage drapery fabric or upholstery fabric yardage. A beauty to behold.
Even charming things come in small sizes, such as this wonderful 1890's calico doll dress. The needlework was finely executed on this dress. Love the sleeves.