Beautiful Undergarments Of The Flapper Years of The 1920's
The closing of the first decades of the 1900's saw undergarments, not only changing in style, but also in fabrics, as man made fibers appeared more widely. Some of the most beautiful rayon silk lingerie, in yummy colors, were produced after World War l through the early 1940's, with the heyday between the 1920's and 1930's.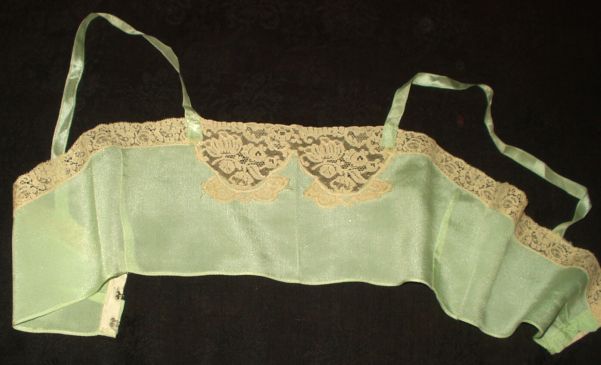 The above photo is of a chiffon brassiere from the 1920's era. It is a wonderful color of green with ecru Alencon machine lace trim. Green satin ribbon straps and a hook and eye closure at the back. No labels or tags as to manufacture. Very nice quality fabric and lace trimming.
A lovely piece to add to a collection, research or just admire.