Ribbon Art ~ Handiwork Of The Victorian Edwardian Era ~ Dresser Runner And Matching Pincushion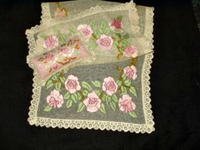 OH..... here is such a fantastic matching runner and pincushion from the late Victorian / early 1900's. Done of ribbon art, the pieces are extremely well done. . Can you imagine such a lovely dresser runner and pincushion upon milady's vanity or dresser? Especially in the beautiful flora motif of roses.
The roses are scattered at the edge of the runner and across the top side of the pincushion. The loose weave background fabric is woven with ribbon of variegated colors to form the roses, leaves & stems. The ribbon is narrow, approx 1/4" wide, so it has taken an incredible amount of ribbon and time to work these beautiful pieces.
The ribbon appears to be a rayon silk blend or rayon. Imagine the length of the runner 18-3/4" wide x 47" long. Then, the flora work, itself, measures 5-1/2" wide at each end and 2-1/4" wide at each of the long side. How absolutely stunning. Condition is remarkably good.
Now, the pincushion measures 10-1/2" long x 6-1/4"wide. It is made with the same loose weave background fabric on the top side of cushion, with a netting on the back side of cushion. Cushion is probably sawdust stuffed covered in a rose colored fabric. Again, the ribbon art of roses is exquisite, which extends across the top of cushion. A narrow band of ribbon is woven at the very edge against the lace ruffle.