The 1950's Crinoline Petticoat ~ A Style To Remember!
The crinoline petticoat ~ a bouffant undergarment to support a skirt made of yards of fabric. Through the centuries, the crinoline has had its revival periods. One such, was the decade of the 1850's, when crinolines and hoops supported very full skirts.
In 1947 Christian Dior reintroduced the crinoline in his "New Look" style, a style with very full skirts. To achieve the bouffant look, an undergarment of volumes of netting was created. This style lasted through the 1950's, mostly favored by teenagers.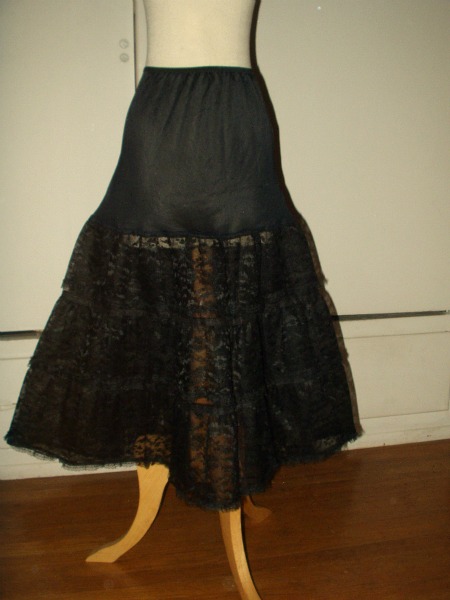 This vintage black tiered lace, with drop waist crinoline, is in a stiff lace and nylon fabric. The size label indicates it was made by Stern-Maid in all nylon. There are three lace tiers over the stiffened buckram. Two of the tiers measure 5" wide with the one at the hem measuring 6-1/4" wide. Upper portion is nylon. Circumference of this beauty, around the hem is 128". Wow!
The crinoline appears to be in excellent shape. Perhaps never worn!
Even though this garment has been sold, it lives here to be admired!